X-Creator Settings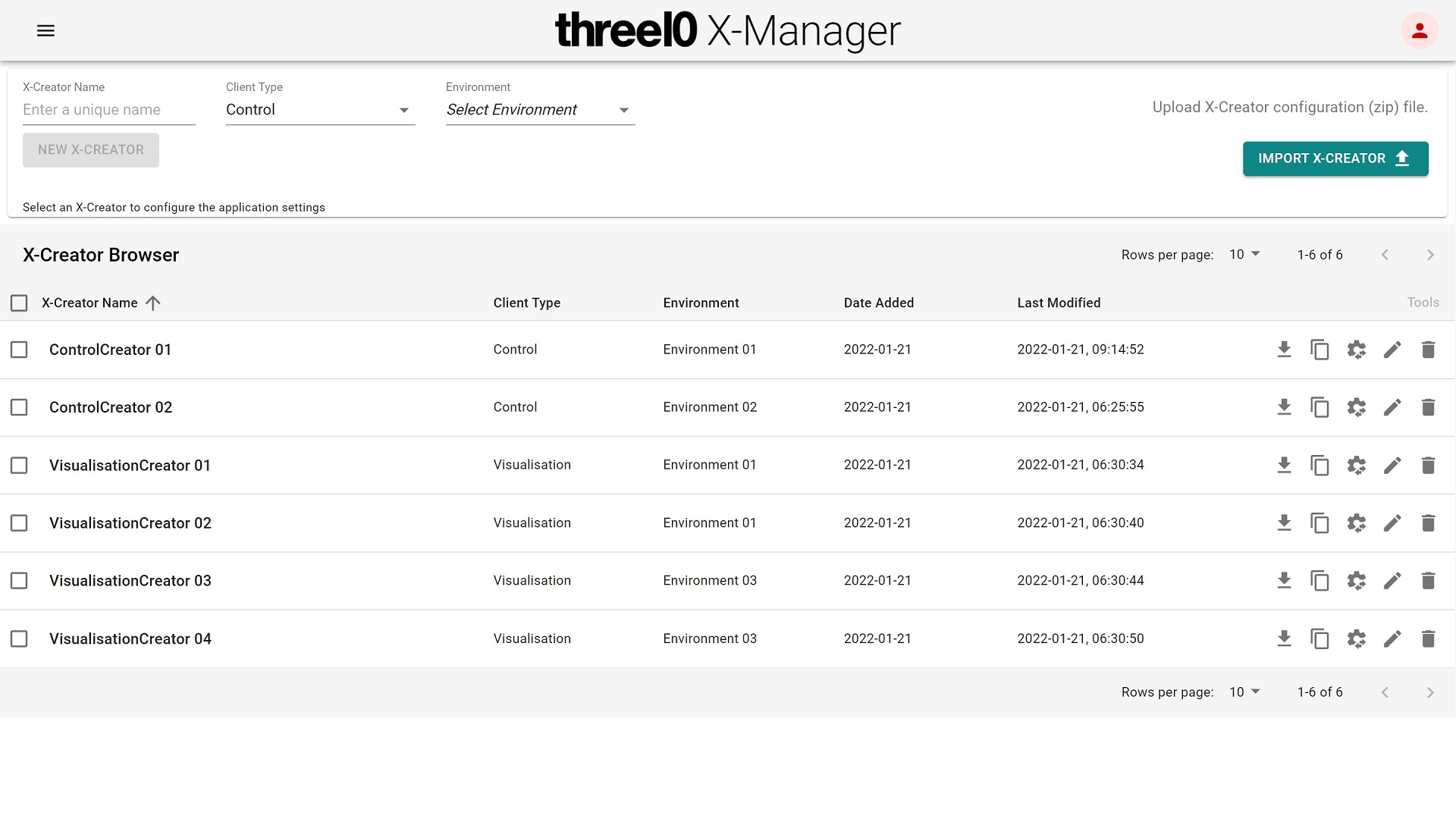 To create a new X-Creator enter a unique name and select the Client Type (Control or Visualisation) and an existing Environment. An X-Creator can also be imported by uploading a previously downloaded one. The following options are available for every X-Creator:
 Download
Download X-Creator settings
 Duplicate
Duplicate X-Creator
󱁛 Change Environment or Client Type
Change Environment or Client Type for X-Creator
 Rename
Rename X-Creator
 Delete
Delete X-Creator
By clicking on a created or imported X-Creator the setting page opens where configurations can be made.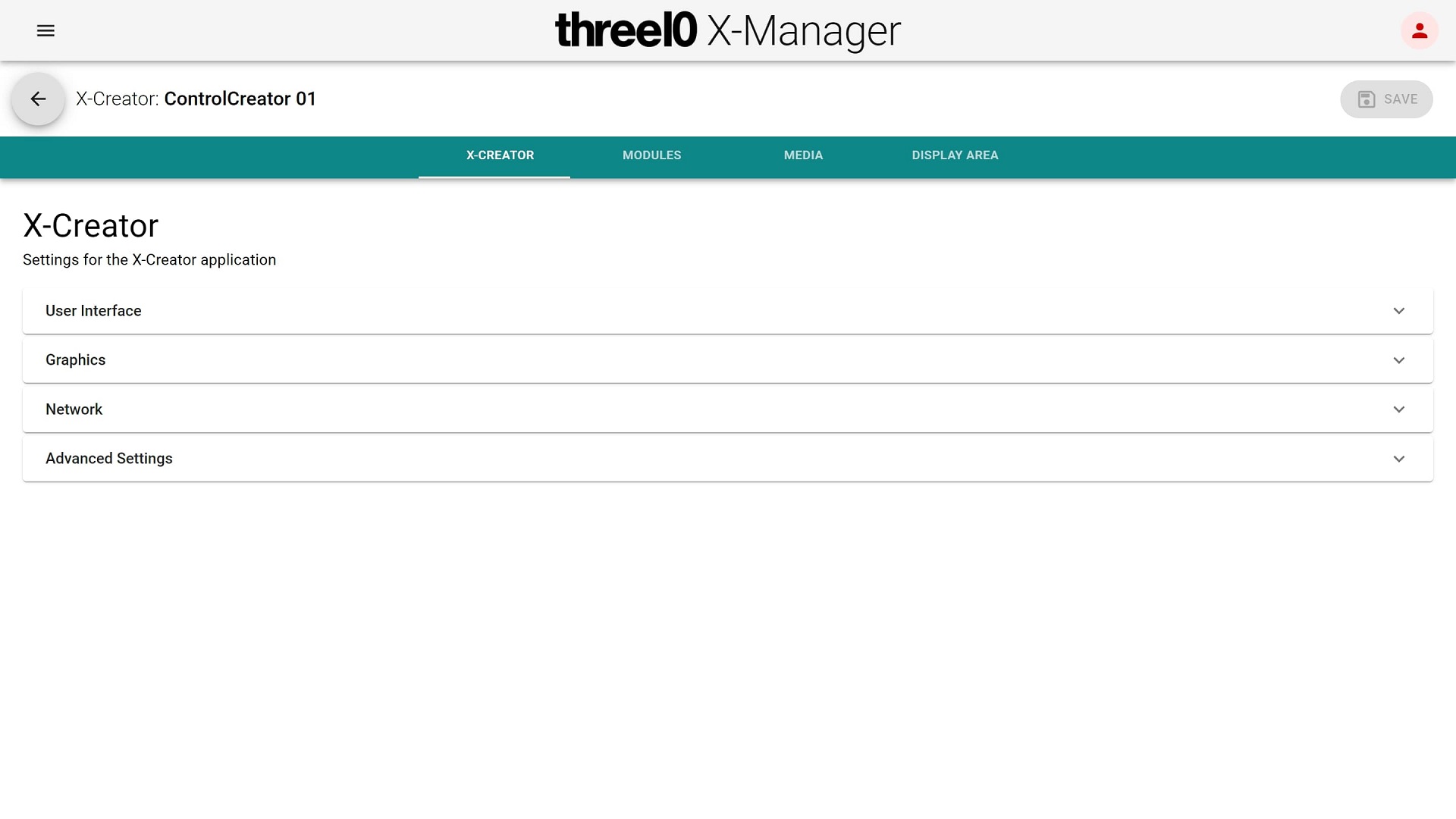 User Interface
Welcome Screen
Shows Setup and Experience Screen (e.g. on tablet control devices).
On-Screen Keyboard
Shows the on-screen keyboard for text input.
Mouse Cursor
Shows the mouse cursor.
Resizable Canvas
Makes the canvas resize- and moveable using mouse or touch interaction.
Highlight Color/Secondary Highlight Color
Primary/secondary UI highlight color in Hex code (e.g. #18E0E7)
Welcome Screen Background Image
Background image for the Welcome Screen.
Sidebar
Define number and types of media, Room Control and Crestron icons in Sidebar. The order of the media menu buttons can be defined as well.
Web Browser Window
Use the web browser window to integrate a slide independent website into the Sidebar which can be opened any time during presentation. The browser window is only displayed on the client invoking the function. (e.g.: Crestron X-Panel Website)
Button Name
Name of the menu button in the sidebar
Icon
Icon in the Sidebar
URL
Web Browser URL
Auto-Size
Adjusts the size of the Web Browser Window to the UI, or manually set width and height in pixels
Scale Website with UI
Adjusts the content of the displayed website to the resolution of the UI
Network
Backup Servers
Possibility to add multiple backup server IPs where all X-Creator clients will connect to if the Crestron invokes the switch with a predefined join.
Warning
Only available with Crestron
Server IP
IP Address of the X-Creator backup server
Server Name
Name of the X-Creator backup server
Join
Crestron join for switching to this X-Creator server
Advanced Settings
Experience Auto-Start
Loads the specified Experience on application start (defined by Experience name)
Experience Pin
Shows the dialog for entering the Experience Pin
API Token Access
Grants permanent access to the X-Manager API after initial login
Image Trigger Experience
Name of the Experience used for Image Triggers
Global Keyboard Listener
Listen for keyboard input without focus (Arrow keys, Page Up, Page Down)
Slide Saving
Enables saving Slides
Slide Auto-Play
Cycles through Slides automatically (in seconds per slide)